Hackers Congress Paralelní Polis (HCPP) is the flagship event of Paralelní Polis, which since 2014 has been regularly attended by over 500 fans and IT experts from all over the world.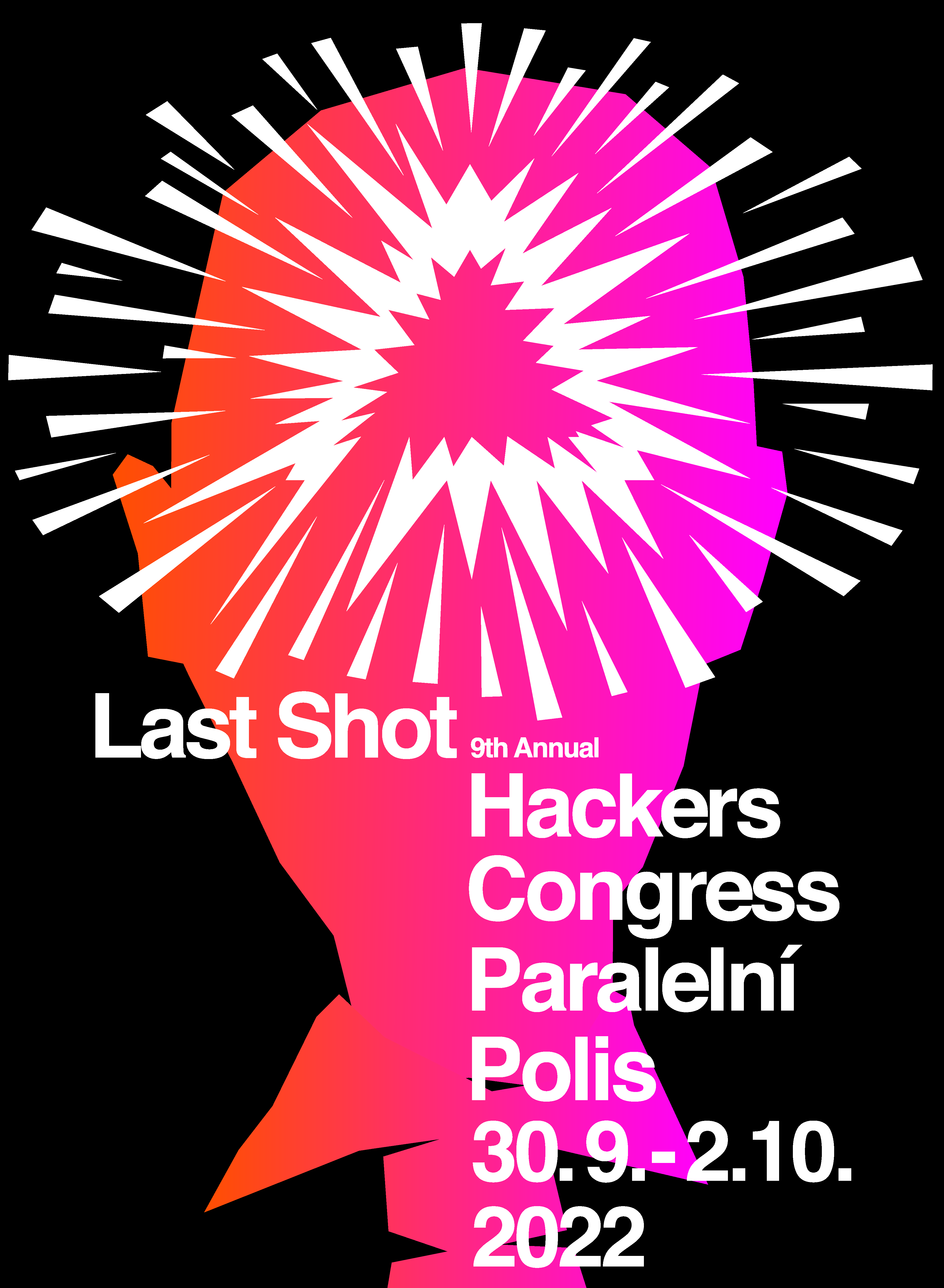 They took a shot at privacy, building surveillance systems.
They took a shot at encryption, saying surveillance cannot work if we don't give them keys.
They took a shot at anonymity, with face recognition, profiling, social credit scores.
We were hiding in a masked crowd.
They took a shot at financial communication, counterfeiting units of money and taking the wealth of the society for themselves.
They enlisted their friendly corporations to supply them with the bullets of control and oppression.
Who will fire the last shot?
And will we then – finally – disappear?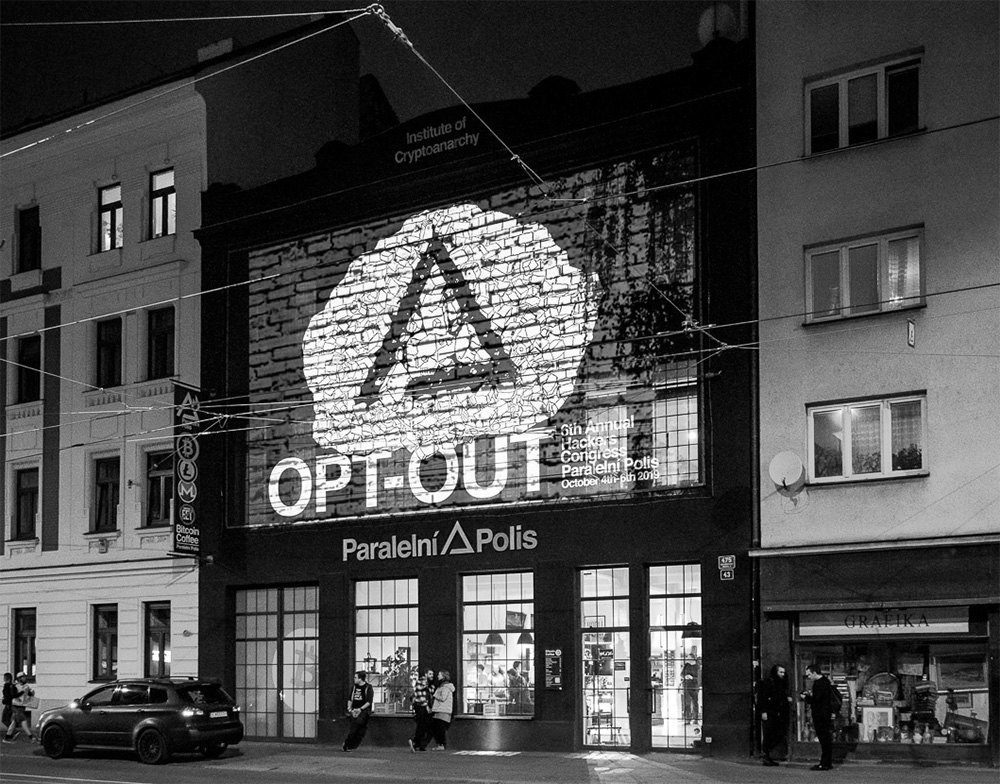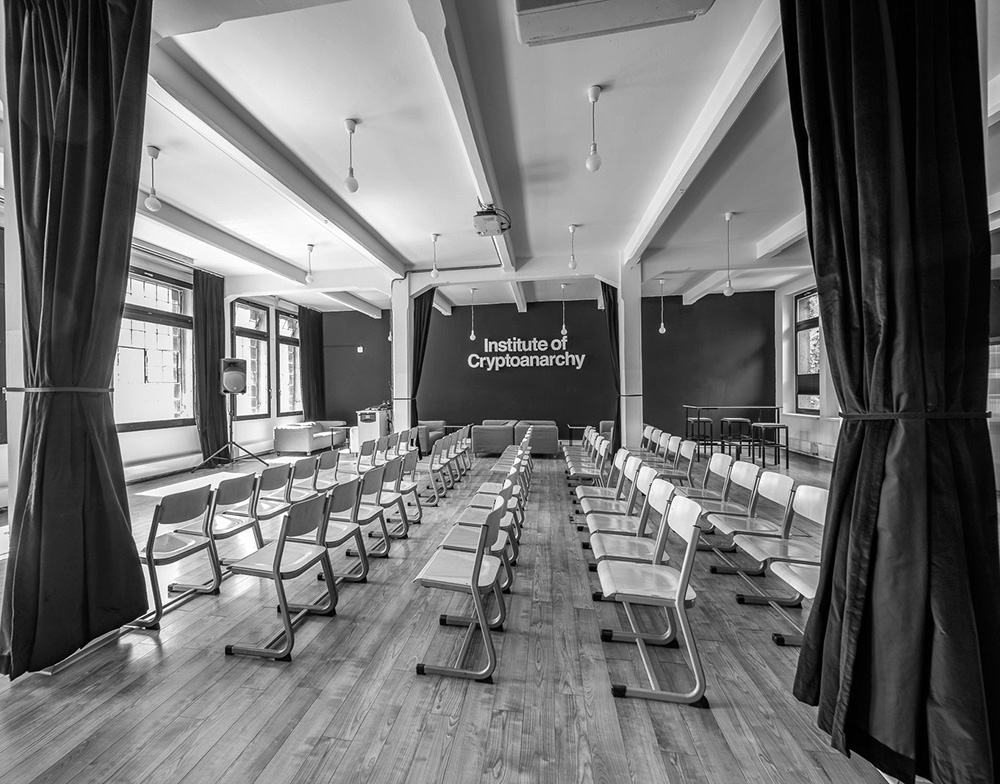 VENUE & ORGANIZER
Unique industrial multi-purpose professional event space in the heart of Holešovice district in Prague ideal for presenting various projects and hosting community events.
Paralelní Polis is a one-­of-­a-­kind nonprofit organization that brings together art, social sciences, and modern technologies. The ideas of liberty, independence, innovative thinking, and development of society are the main underlying foundations the whole project is built upon.
The project intends to remain state free as it operates entirely without support from the government. Most of the funds come from voluntary contributions of donors and commercial activities such as running a co­working space and the world's 1st bitcoin-­only cafe.
It was founded by members of a contemporary-­art group Ztohoven, and Slovak and Czech hacker­spaces. Its main goal is to promote economic, social, and digital freedom. We try to be a vocal voice of freedom in order to shape the public discourse, and ultimately work towards a freer future.
Official partners of this year's Hackers Congress Paralelní Polis
Paul Rosenberg is the author of the Free-Man's Perspective newsletter and the co-founder of Cryptohippie. He is also the author of A Lodging of Wayfaring Men, Production Versus Plunder, and The Breaking Dawn. He is a co-author of The New Age of Intelligence.
Paul's research interests are related to the cryptocurrencies Bitcoin and Ethereum, but increasingly oriented toward the latter. Paul arguea cryptocurrencies are best understood as forms of cultural expression with associated micro-economies. To this end, he focuses on the creativity of cryptocultures. His research is qualitative in orientation. Paul is influenced primarily by the theories of social imaginaries (Taylor) and the commons (Ostrom). He is interested in how these occur within the polycentric forms of governance (Polanyi) characteristic of cryptocurrency cultures.
▲▲▲
The Realpolitik of the Ethereum Ecosystem
What is the social, cultural, and political endgame of the Ethereum project? In this paper, I discuss the various answers on offer among the emergent social, cultural, and political factions within Ethereum: cypherpunks, experimental liberals, solarpunks, lunarpunks.
The non-technical endgame of Ethereum is clear: to be a decentralised World Computer. We have, therefore, an answer to the question "What is Ethereum?" But, curiously, we lack an answer to the question "What is Ethereum for?" What is the social, cultural, and political endgame of the Ethereum project? In this talk, I discuss the various answers on offer among the emergent social, cultural, and political factions within Ethereum: cypherpunks, experimental liberals, solarpunks, and lunarpunks. I try to discover a meta-narrative that unites them and find among them a common commitment to agorist practice.
Radim is attorney-at-law and proud implementer of Paralelni Polis ideas. As a co-founder of Parallel Garden, he is primarily in charge of legal agenda – however, not only in a way you would assume. Project based on ideas of Paralelni Polis demands effort to keep the compliance with its ideas. It covers either searching for specific rules, or even creating the new ones. In 2017, Radim also co-founded Blockchain Legal, law firm focused on cryptocurrencies and digital technologies based in Prague.
Daniela is a Bitcoin developer working mainly on wallets – she is now dedicated full time to BDK, a library for seamlessly building highly-customizable Bitcoin wallets, while in the past she spent time working on Blockstream Green, BraiinsOS, Stratum V2, revaultd, and revault-gui.
▲▲▲
Life is short, Bitcoin is forever
What would happen to your coins if you were to die in the next three hours? Would they be lost forever? Would your relatives be able to recover them?Descriptors, timelocks, taproot. 0% custodians.
# The premise
We don't like custodians. Not your keys, not your coins.
# The problem
Self custody of Bitcoin is hard. Making sure that your relatives can access your coin after your death, but can't steal them before your death, is even harder.
# The solution
…You'll have to listen to my talk to find out. Sorry, no spoilers!
Cryptoanarchist for 20 years. Privacy extremist and crypto absolutist. Founder of anarplex.net, co-founder of TAZ0, and co-host of Cypherpunk Bitstream Podcast. Author: Second Realm – Book on Strategy, Dropgangs – future of darknet markets, Aristocracy of Action, The Treasure that is Privacy, The New Age of Intelligence. Operator of anonymous remailers, darknet hangouts, and the longest-running darknet IRC. Developer of privacy-enhancing technologies. Covert communications specialist, a security consultant.
Mário is a hacker and researcher focused on making the crypto ecosystem more efficient and anonymous. As a member of Paralelní Polis, co-founder of Bordel Hackerspace, and the driving force behind Pizza Day Prague, Mário educates about tools of cryptoanarchy in local communities with a focus on onboarding via Lightning and p2p exchange. He is a vast enjoyer of FOSS, parallel economy, and trolling bitcoiners.
Rachel-Rose O'Leary is a core dev at lunarpunk layer 1, DarkFi. She is also co-editor of the philosophy journal Agorism in the 21st Century. As a writer she has published in egirlcapital, CoinDesk, Defiant, Wired and elsewhere under anonymous accounts. She believes privacy is necessary for communities to define their own destinies.
▲▲▲
A Lunarpunk Primer
Blockchains have become a surveillance nightmare; the lunarpunk movement, inspired by science fiction and empowered by zero-knowledge cryptography, redefines cryptocurrency as an encrypted dark forest that protects participants instead of exposing them.​
Lunarpunk is revolutionary science-fiction. This talk will attempt to give an overview of lunarpunk and its philosophical roots. It will discuss the basis of lunarpunk in agorism and anarchist philosophy and outline its vision of technology.
Juraj is an educator, book author, coder, cryptoanarchist and biohacker. He helps people turn off statism in their own heads and disconnect their brains from the hierarchies of the world. He is a co-founder of Paralelná Polis.
▲▲▲
Bitcoin's last shot: The peer to peer economy
The meaning of words is distorted. "Inflation", "unhosted wallets", "virtual assets". And also Bitcoin – represented by account balances in centralized custodians. What are the different forms of Bitcoin, what are it's features and what will be it's last shot?
parazyd is a free and open source software developer and advocate, and a co-founder of DarkFi. He has worked on privacy systems, mixnets, FOSS operating systems like Devuan and Maemo Leste, and most recently he is leading the development efforts in the DarkFi ecosystem.
▲▲▲
DarkFi – The Coming Storm
Defining a new paradigm in anonymous ecosystems with free software and anonymous engineering.
The talk will be an overview of what is happening in the world regarding crackdowns against crypto, how incompetence and having no ideology leads to broken systems, and how with free software we can be vigilant against oppressors and regain our privacy, sovereignity, and anonymity.
Founder of the world's first Decentralized Autonomous University: Bittopia University. An advocate for decentralization, P2P economies, privacy, and bottom-up strategies. Specialized in product development & innovation pathways. Over 10 years of experience as a product engineer and designer. Netexplo UNESCO Grand Prix award winner, Amin Rafiee, a regular speaker at Bitcoin and decentralization conferences throughout Europe, including The UNESCO House in Paris, The European Commission in Brussels, The Swiss Re Centre for Global Dialogue, The Dutch Ministry of Economic Affairs, Paralelni Polis in Prague, as well as other locations throughout America and Australia.
▲▲▲
Knowledge is Currency (Talk)
Using distributed networks to create a solutions for the growing number of victims produced by the cancel culture and institutionalized education. Furthermore, learn about my story of escaping communist Australia, and my observation of the local rebilion groups.
Since the dawn of time, we have been searching for answers, questioning our origins, purpose, and destiny. The Gutenberg press enabled people to share knowledge through books, bypassing institutions (middleman), while the Internet freed the flow of information across the planet, giving us access to lost archives and stories that were otherwise inaccessible.
Now we are faced with several new challenges, the cancel culture posining our world, limiting expressions and thoughts, and the decaying education system which has turned into indoctornation.
The traditional educational system is better aligned with selling knowledge by indebting students and creating specialized workers, thus limiting their choices in life, than it is with the notion of empowering people so that they can free themselves from compartmentalized learning and financial slavery.
This talk will cover the power of decentralized education.​​​
▲▲▲
Re-claim Your Digital Privacy and Freedom (Workshop)

Empower yourself and learn how to protect your personal data in a connected world. One of the most important skills to master, unlock your inner ninja and enhance your security and knowledge, YOU can control your own data and freedom.​
We will go through the following topics together, so you can apply these methods and decentralized apps to protect your data and gain your freedom back:
Using a password manager to securely create and manage accounts.
Moving away from Gmail and looking into alternative solutions.
Exploring friendly alternatives for messaging apps.
Protecting your right to free speech and expression.
Limiting personal data collection by Big Tech.
Why not all VPNs are the same and how to select a good service.
Replacing iCloud, Dropbox, and Google with privacy-respecting solutions.
What are De-Googled phones and how do they work.
Going beyond Windows and macOS laptops.